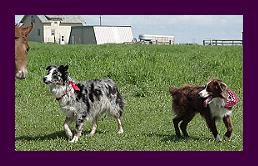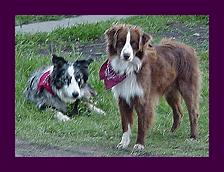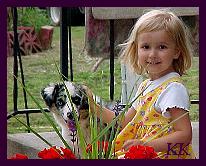 "Remember an Aussie is a Friend & Family Member for Life."
They are super intelligent very fast learning and very easy to train. They learn commands very quickly, have boundless energy they love to play, have wily personalities, unbeatable work ethics, they are your constant shadow they like nothing more the being with you and bond very closely to you & not to mention their striking appearance!! They take a while to warm up to strangers & are good natured and not aggressive. They can be highly protective of their property. They have a natural tendency to herd; whether it be sheep, children, guests, or small animals and may nip at their feet to get them moving.

~Allie~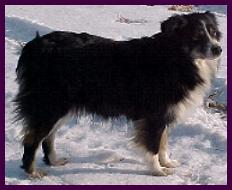 *Prairie Rose Thanxalot* aka~Allie is Registered APRI, ASDR & NSDR, she is about 16 inches tall. Her sire is OFA'd excellent & dam is OFA'd good. She is the Dam to Bailey (below) & Granddam to Lilly (below).
*Reference Only Allie has found a forever home*
Allie's Pedigree

~Bailey~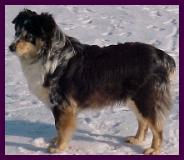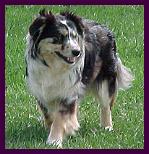 *MK Baileys Irish Bluz* aka~Bailey sadly passed at 15 years old! She is missed very much! She was out of Allie (shown above).
Her grandsire is OFA excellent & granddam is OFA good.
This is Lilly's Dam.
Bailey's Pedigree

~Lilly~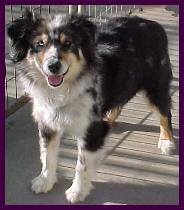 *Kats Get A Wiggle On* aka~Lilly is ASDR Registered and is out of Bailey (shown above). She is 16.5 inches tall & loves people once she gets to know you. She has the Aussie instinct to check you out first then love you!

~Sky~
Pics and info coming soon!

~Sawyer~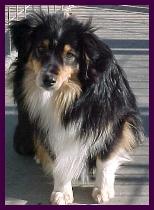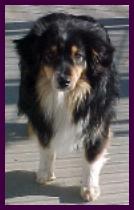 *Rim Fire Kut A Rustee* aka~Sawyer is 15 inches tall and a flashy Black Tri. He is ASDR Registered. He is my buddy, loves being close to me. I got him when he was older & he wasn't well socialized but I am working on that. He is very happy and lovable and has a beautiful coat and conformation & his puppies are very nice & socialize well!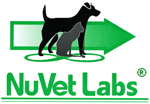 NuVet Supplements
I feel strongly about NuVet Supplements and feed Taste Of The Wild Ancient Grain and Raw feeding.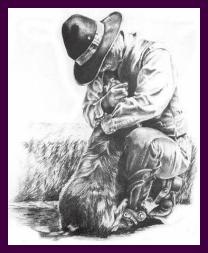 *Best Friends*


"Ordinary" dogs have tails, and Aussies are NO "ordinary" dog...



Home
Puppies
Horses For Sale
KK Facts & FAQ's
Odds & Ends For Sale
Customers
Customers 2
Customers 3
Customers 4
Customers 5
Customers 6
Customers 7